---
OVERVIEW

Learning and development settings at work can be gamified too! An Coppens will teach you to employ the right techniques of gamification in L&D settings (Onboarding, Advancing Skill Sets, Training) where learners can complete their trainings, retain their knowledge and thrive the most.

METHODOLOGY

The 2-day workshop is very practical in nature, highly focused on cases that the participants will bring in with them. Each team will get to practise their gamification skills on a topic of their choice. An will share examples of epic fails and also her success stories. Come with a playful mindset!


THE BENEFITS OF GAMIFICATION IN LEARNING
Improved learning experience - Gamification will allow a higher level of engagement in learning through the elements of fun. This leads to an increase in recall and attention.
Improved learning environment- Gamification provides an efficient learning environment that helps learners practice real life situations and challenges in a safe environment. This leads to a more engaged learning experience that promotes better knowledge retention.
Instant feedback - Gamification provides instant feedback that promotes confidence and engagement which increases recall and retention of knowledge.
Rewarding behavioral change - When combined with the psychological principles of repeated retrieval and spaced repetition, gamification can drive strong behavioral change.
Vast application in learning needs - Gamification can be applied across most of a company learning needs including onboarding, sales, customer support, soft skills, awareness creation, and compliance.

HOW GAMIFICATION IN LEARNING HELPS ORGANIZATIONS
Boost course completion rates & certifications
Promote voluntary learning & resource use
Improve employee satisfaction & decrease turnover
Increase collaboration & sharing in social platforms
Recognize behaviors that correspond to greater performance
---
PEOPLE WHO SEARCHED THIS ARE ALSO INTERESTED IN:
Game Thinking for Product Design and Customer Experience Innovation

---
---
Day 1
SESSION 1: Introduction - Why gamification now
With learner exposure to social media and current day technology, the attitudes have changed towards learning. Gamification can offer one way to engage learners for longer, help them retain more and prove their skills.
This session will set the scene for the next 2 days
• What is changing with the workforce of today?
• What is gamification?
• Why is it relevant?
• Why is the time ripe for gamification initiatives?

SESSION 2: Why do people learn
Learners have different motivations in different circumstances. In thissession we look at becoming mindful of those motivational drivers and current day methods of learning
• Why do learners learn?
• How do learners learn?
• Why you don't want to be the 10% department (70-20-10)…

SESSION 3: Learning objectives and outcomes
All good learning design starts with learning objectives and learning outcomes. Starting with the end in mind is still a good idea, the bit in the middle may be changing
• Blooms taxonomy
• Addie
• Instructional design techniques

SESSION 4: Learning-related gamification framework
An Coppens learning gamification framework, designed to capture a full learner journey through to mastery. How this works in an overview.
• Why I designed it?
• How does it work?
• The three levels

SESSION 5: Learning styles meets player types
Both learning styles and player types play a role in gamification design for learning. I matched the two frameworks to come up with a blend of learner player style.
• Kolbe learner styles
• Player types – Andrzej Marczewski
• The blend

Day 2
SESSION 6: Level 1 content gamification
Deep dive and practical design session around level 1: content gamification
• First person
• Engagement loops
• Impact for design
• Practise on your content

SESSION 7: Level 2 systems gamification
Level 2 gamification is all about the system and providing structure for the learner
• Core drivers of progression
• Setting the learner up for self-directed success
• Indicators of performance
• Practise on your content

SESSION 8: Level 3 proof of mastery
A lot of learners want to know if they have successfully acquired a skill and how they can show it. It is rare to find a platform that measures this for them and how you can help
• What are the elements of proof?
• Why does it matter and who does it matter to?
• Practise on your scenario

SESSION 9: Beta, Alpha, GO!
Iterations and testing are part of all good game design, hence in gamification, this is equally good practice. We will discuss data analysis and feedback to improve your project and steer it towards the desired business objectives.
• Is it also fun?
• Importance of testing
• Launch considerations: silent or big bang, compulsory or voluntary
• Testing, measuring, iterating

---
---
Endorsed By GAMFED
Our gamification workshops are endorsed by the International Gamification Confederation (GamFed), which reviewed and determined the best practices of gamification to be applied in specific areas. We have trained and developed our trainers using frameworks that were designed from the world top gamification gurus like Yu-Kai Chou, An Coppens, Andrzej Marczewski, Pete Jenkins and much more to ensure the content delivered is aligned with international best practices and standard.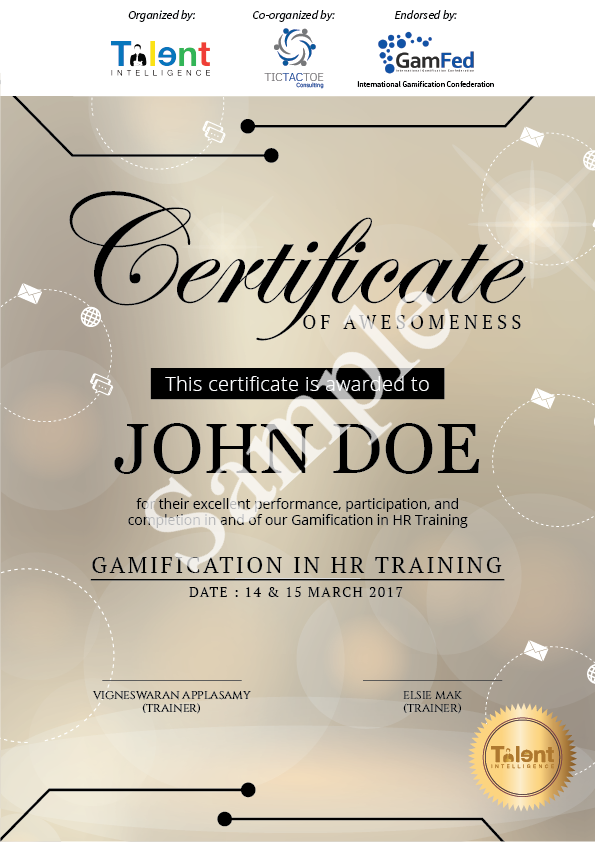 The workshop is 100% HRDF claimable & SBL-KHAS approved. Contact us more about public or in-house workshops.

---