---
GAMIFICATION & ENGAGEMENT
This is an introductory workshop for contact centers to learn about gamification and how it can improve agent engagement in general and to achieve many more specific benefits, such as improving adherence to scripts, raising closing rates for sales and collection activities, reducing risks by improving compliance with disclosure requirements, and reducing the onboarding time for new agents by making training more effective.
WHY YOU NEED TO ATTEND THIS WORKSHOP?
Employee engagement is a persistent problem at contact centers, as evidenced by high employee attrition rates. Signs that contact center agents are not engaged in their work include:
Flat or declining sales

High abandon rates

Increased customer service complaints

Increased compliance violations
HOW CAN CONTACT CENTERS USE GAMIFICATION?
With properly designed gamification strategy, gamification can be used to achieve the following business goals:
Reduce absenteeism
Increase adherence
Reduce attrition
Reduce onboarding timeframe
Reach contact center KPIs
Incentivize quality calls and sales
Improve employee engagement
Map the path to career success

LEARNING OUTCOMES

Learn to engage with employees using gamification techniques to make the working environment more enjoyable, exciting, and purposeful.

WHO IS THIS FOR?

Contact Center General Managers, Senior VPs, VPs, Directors and Senior Managers of the following areas:
Human Resource

Recruitment

Human Capital Management

Talent Management

Employee Engagement

Employee Experience

Organizational Development

Learning & Development

Training & Development

Talent Acquisition

Talent Development

Compensation & Benefits
---
WHAT OTHERS SAID ABOUT THIS TRAINING:

This training opens up my mind and expand my knowledge in making things more interesting in my workplace. Tuty Edayu - UOB (M) Bhd

This a good eye opener for the management to add spice and lessen the stress in each employee, but at the same time improves the performance of the team - DHL IT Services
---
---
Day 1
Session 1: Integrating Gaming Elements into Contact Center Work Processes
· Workshop Objectives
· What Gamification is all about
· Gallup's Study and Findings
Session 2: Successes & Setbacks
· Group Activity 1: What can Gamification drives in the Contact Center?
o Improve Average Handling Time & First Call Resolution
o Reduce Adherence & Absenteeism
· Group Activity 2: Identify success stories
· Global Trend in Contact Center Gamification Implementation
· Avoid these Contact Center Gamification Pitfalls
· Group Activity 3: Identify Your Challenges when Implementing Gamification at work
Session 3: Gamification Framework that Drives Performance and Productivity
· Finding the right motivators: Personalize It
· Human Motivational Framework Overview
· Group Activity 4: Impact of real time feedback/ Addressing weakness of manual gamification
Session 4: Sneak Preview: Getting Started with Gamification @ Your Contact Center
· Group Activity 5: Existing Contact Center Processes
· A practical Gamification Process Flowchart
· Questions & Answers
---
---
ENDORSED BY GAMFED
Our gamification workshops are endorsed by the International Gamification Confederation (GamFed), which reviewed and determined the best practices of gamification to be applied in specific areas of HR. We have trained and developed our trainers using frameworks that were designed from the world top gamification gurus like Yu-Kai Chou, An Coppens, Andrzej Marczewski, Pete Jenkins and much more to ensure the content delivered is aligned with international best practices and standard.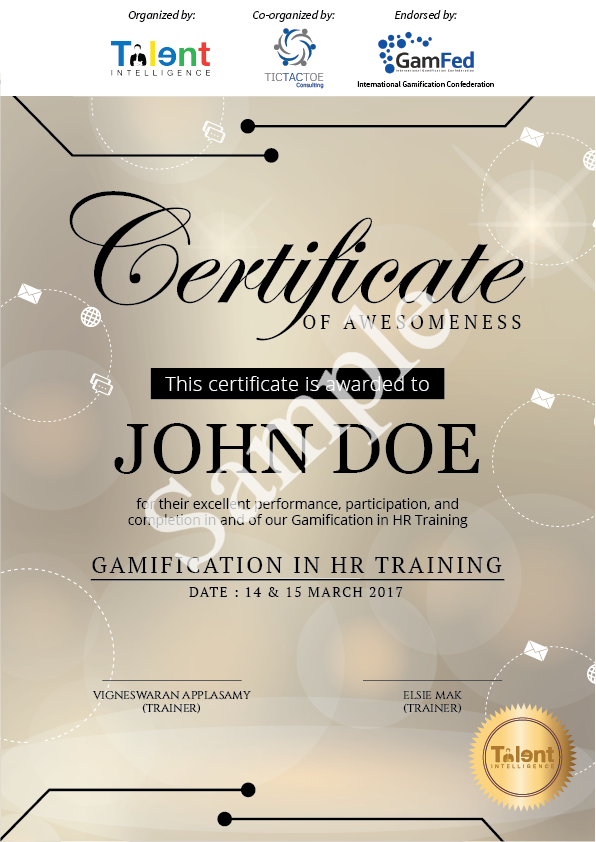 ---