---
---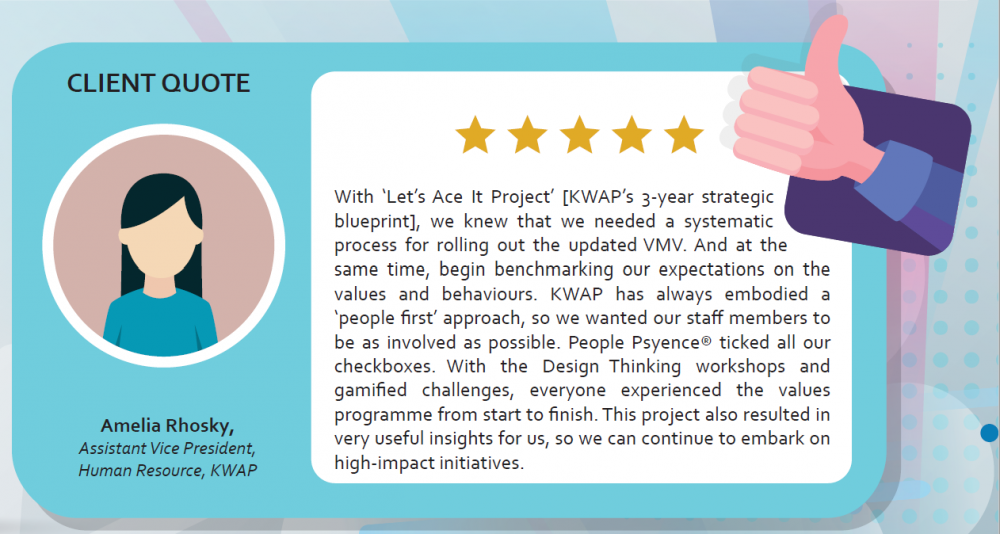 Gamification Business Case: Gamification built with Design Thinking: A corporate values campaign in financial services
People Psyence developed a two-phased integrated approach to address KWAP's objectives with a long-term, sustainable view.
People embarked on a project to KWAP's values across the entire involving 2 countries. This resulted in Malaysia's first -wide gamification of a in financial services. The project yielded a 99% active participation rate and over 74% of the workforce reporting that they understood the values better.
Kumpulan Wang Persaraan Diperbadankan (KWAP) is a body responsible for assisting the Federal Government in financing its pension liability.
In 2015, its Vision, Mission and Values (VMV) was updated and refined. This was followed by a series of team building activities and on-ground campaigns in efforts to create awareness and understanding of the VMV.
A 3-year strategic blueprint formulated in 2018 highlighted the need to develop clear guidelines for how the VMV is reflected in the workforce With this, KWAP sought to systematically the VMV in a company-wide initiative. The brief required the project to fulfill two main criteria:
(1) can be established and progress tracked long-term
(2) - approach in the execution of this project
(3) KWAP employees in the process, not just as participants
Download the full business case here!

Contact us for Gamification for Corporate Culture & Value Alignment:

---