---
---
GAME THINKING ASIA 2017
The inaugural Game Thinking Asia (GTA) conference came to life this 16 August 2017 and was received with many positive responses.
As Talent Intelligence dives deeper with human-centric innovations for the industry, the inaugural Game Thinking Asia (GTA) conference came to life this 16 August 2017 and was received with many positive responses. The goal and vision of GTA was to promote game thinking and gamification to create engaging human experiences. The event became one of the few innovation conferences in South East Asia for product designers and customer experience experts. We have exchanged many ideas and learned valuable lessons from global leaders from Hungary, UK, US, Singapore, China, and much more in one location here in Malaysia.
Being in the industry with numerous professionals as trainers and consultants, it was clear that there is a high need for business to create meaningful experiences for any organisations' customers, employees, and other stakeholders. As a result, the conference started with the core and understanding of game thinking by the world renowned start-up coach and game thinking brainchild, Amy Jo Kim, from San Francisco. The conference then led two tracks -
Track 1: Product Design
Track 2: Customer Experience Innovation
The tracks were followed by the elements of Game Thinking - Systems Thinking, Agile Lean UX, Gamification, and Design Thinking. The speakers included leaders in the industry, such as An Coppens (Chief Game Changer - Gamification Nation), Jan Bartscht (Co-Founder and Managing Director - Leadapreneur), Pete Jenkins (Founder of Gamification Plus), Taylor Ling (Co-Founder of Fabulous Co.), Christoffer Erichsen, CEO & Lead Facilitator - Human Inc.), Rasul Majid (Outreach Coordinator - The Genius Workshop) and many more.
The topics covered the application of these concepts in product design, marketing campaigns, retail, ethics in application, and much more. Companies like Netflix, eBay, The Sims, Adobe, Tesco, EA Games, The New York Times are early adopters of game thinking design, which were led by Amy in the process.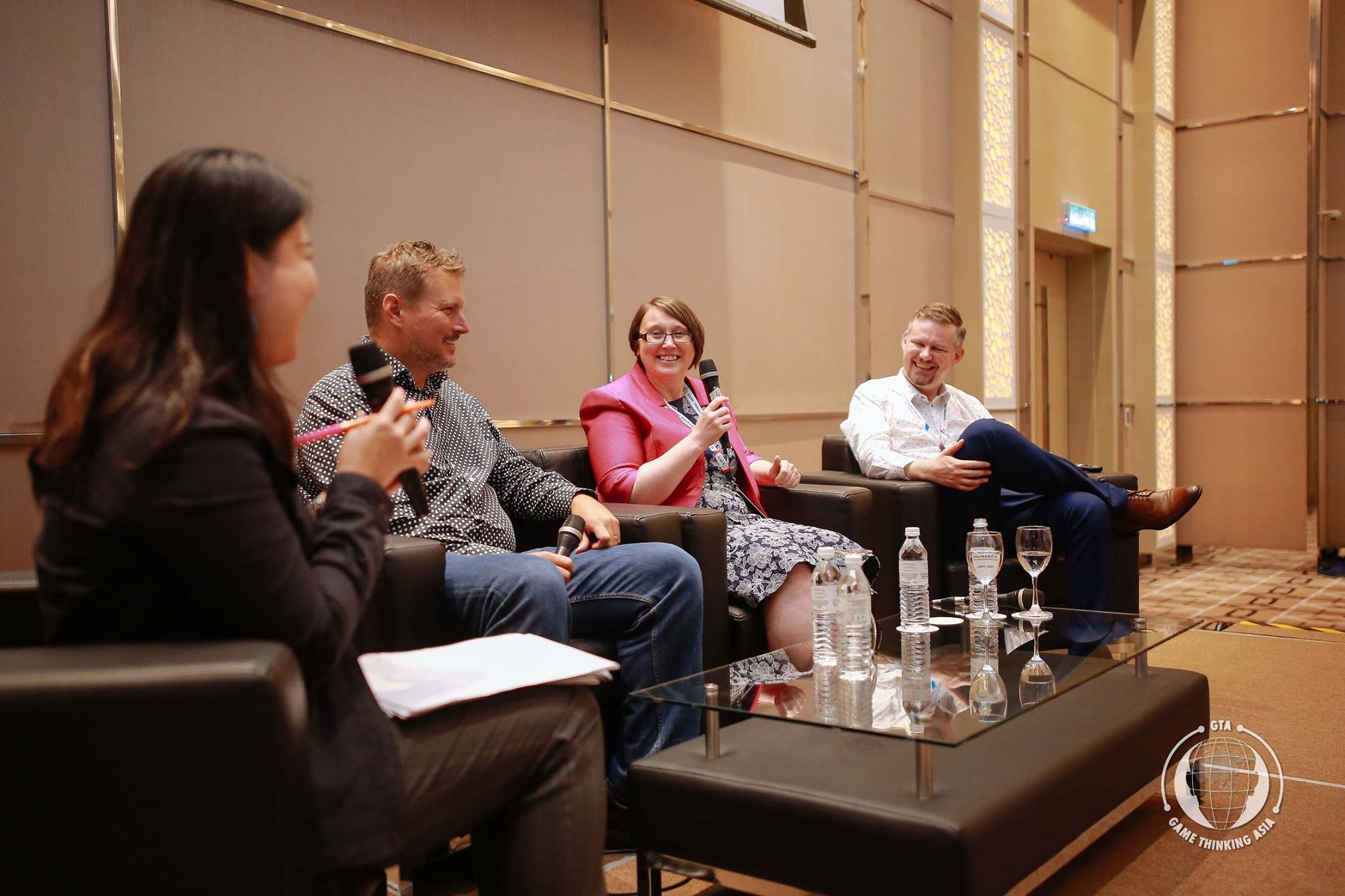 One application of gamification can be seen at the conference was the use of the Orlig Amaze Super Agent app, by ANBIZ Sdn Bhd. The app served to create more interaction and networking opportunities between delegates, exhibits, and speakers. Through a gamified experience created, delegates learned better from the topics of speakers. They were eager to engage the app again and visit the exhibits, which brought them to solutions suitable for them. With careful gamification implementation, we were able to receive feedbacks from delegates immediately and efficiently too.
Talent Intelligence believes that products or any services as solutions designed with the users in mind and with proper gamification design in the users' journey is key to bringing ideas to life, an area where Malaysian companies need to put more focus on before implementing new strategies to create desired behaviors of employees or customers. As Talent Intelligence sets out to establish experts, technologies, and infrastructures to create a sustainable market in South East Asia, we hope to see smarter and better innovative initiatives and deeper user engagements thrive.


---
Our Game Thinking Asia 2017 recordings are available now, if you'd like to purchase them, you can do it here for only USD 10!

For any game thinking & gamification facilitation, instructional consulting, and platforms inquiry, contact us here!
---