Objective /Benefits
---
Recently, Gallup has reported that as much as 70% of the variance in the employee engagement of teams can be traced back to the influence of the manager -- through the manager's engagement, behaviors as observed by team members and the natural wiring of managers. In order to prepare managers to become the ambassador, to engage and motivate your employee, human motivation and behavioural design has became one of the important leadership skills.
This workshop will focus on the application of gamification in reshaping employee experience with a behavioral change to motivate participation, engagement, loyalty, and productivity in the workplace.


Employee Motivation & Behavioural Design are a core competency for every leader in today emerging business world.

- Clifford Liow, Managing Director of Tic Tac Toe Consulting-



Objective:
At the end of the workshop, participants will be able to:
• Apply Gamification Framework at work for employee engagement and motivation
• Produce a balance of extrinsic & intrinsic rewards design to entice employees loyalty and build long-term engagement
• Shape new & good behaviour to drive productivity and performance
• Manage problems with retaining employee
• Become more persuasive in all forms of communications


Gamification is the code to crack employee engagement & motivation.

- Evelyn Chue, Managing Director of People Psyence-



Why You Need To Attend This Workshop
Gamification in the workplace is the use of game mechanics and behavioral design to motivate behavior change and engage employees in improving their performance, productivity, participation, and loyalty.
Gamification uses game design to taps into human behavior to understand the science behind human motivation and how to impose the natural drive of human motivation in the workplace environment.
The workshop will discuss the concepts and frameworks of gamification such as the Octalysis Framework, An Coppen's framework, Andrzrej Marczewski's Player and User Types Hexad to name a few. The participants will then use this concepts and frameworks to develop their own prototype by the end of the workshop.


Endorsed By GAMFED
We are so proud to present our gamification workshops that are now endorsed by the International Gamification Confederation (GamFed), which reviewed and determined the best practices of gamification to be applied in specific areas of HR. We have trained and developed our trainers using frameworks that were designed from the world top gamification gurus like Yu-Kai Chou, An Coppens, Andrzej Marczewski, Pete Jenkins and much more to ensure the content delivered is aligned with international best practices and standard.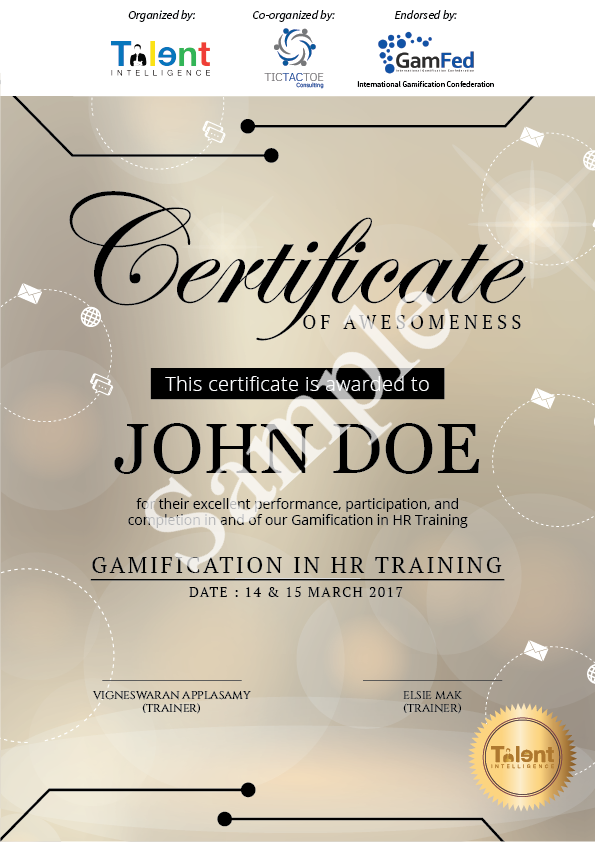 ---

The workshop is 100% HRDF claimable & SBL-KHAS approved. Contact us more about public or in-house workshops.
---
Program Outline
---
Program Outline
Day 1

Session 1: Integrating Gaming Elements into Your Work Processes
• Workshop Objectives
• What Gamification is all about
• How Gamification is impacting business, Employee Engagement & motivation
• Using Gamification at the Workplace to drive performance & productivity

Session 2: Success & Setbacks
• Success Stories of Workplace Gamification
• Global Trend in Gamification Implementation
• Group Activity 1: Identify and Relate Gamification Success Stories
• Avoid these Workplace Gamification Pitfalls
• Group activity: Let's conduct a reality check

Session 3: Gamification Framework that Drives Performance and Productivity
• Human Psychology and Motivation
• Human Motivational Framework Overview
• Gallup's Study and Findings
Group Activity 4: Introduction to Design Template

Session 4: Implementation of Game Element in a Non-Gaming Environment
• How Apple created an Empire?
• Facebook is an Obsession?
• Wikipedia is Free yet Resourceful
• Is Waze simply an App for Direction?
• Gemons wasn't Simply a Game
• Group Activity 3: Game Elements in Organisations towards Business Objectives

Day 2

Session 5: Determining Player Type to Personalize Motivation
• Understanding your Players
• Identifying your Player Type (Exercise)
• The Six Human Needs
• The Six Human Needs (Exercise)

Session 6: An Coppens Gamification Framework & Employee Engagement Strategy
• Attraction: Devise strategies that appeal to your targeted players
• Engagement: Exploring techniques to enhance engagement
• Nurturing: Sustaining interest and motivation to speed up the progress
• End Game: Acquiring evidence of adoptions and achievement of outcomes

Session 7: Developing Prototype & Dashboard
• Guided approach to develop prototype for driving Performance and Productivity
• Team Presentation and Feedback
• Best Practices
• Developing Individual Action Plan & Tracking Mechanism
---
Profile
---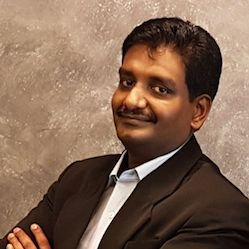 Mr Vigneswaran Applasamy has been involved in lecturing, research, management, sales and training for more than 14 years in the field of Electrical Engineering, Manufacturing sector, Higher Education, Sales and Marketing. He is a Certified HRDF Trainer. In addition, he has been accredited by Harisson Assessment in Employee Development.

Vigneswaran holds a Masters in Electrical Engineering from Universiti Teknologi Malaysia and is a registered member of Board of Engineers Malaysia (BEM) and Institution of Engineering and Technology (IET), UK.

His professional career begun in Singapore as a Sales Engineer and later ventured into the Higher Education sector in Malaysia. He has served as a Vice Principal of a college and moved on to lecture and undertake research in a leading private University where he was noted for his publications in the International IEEE Conferences of Power & Energy and Business, Engineering & Industrial Applications. His articles since have been cited 9 times by other international authors in their respective publications. This was also the period where he ventured into corporate training as an Associate Trainer for Topesh Consultancy and Training Services PLT beginning 2011. He has since worked with a few other training providers.

He has used his industrial and training expertise to develop soft skills programmes with a 20/80 approach; 20% lecture, 80% practical accompanied by a training manual individually customized for each programme. Each sub-section of a programme is incorporated with as many exercises or activity to enhance the practical understanding of participants.

He has since developed over 30 training programmes in the area of Soft-Skills. He's participants include those from Global Enterprise International Malaysia (A Member of Singtel Group), Galeri Petronas, Bursa Malaysia, Honda Malaysia, UMW Holdings Bhd, Tan Chong Motors Holdings Berhad, Perodua Sdn Bhd, RHB Bank Berhad, Maybank Berhad, Maxis Customer Service Sdn Bhd, Marrybrown Sdn Bhd, IFCA MSC Berhad, Pos Malaysia Berhad, Watsons Malaysia, UEM Group Berhad, UEM Sunrise Berhad to name a few.

His pragmatic approach have been well received by various segments of people, owing to his wide exposure to various industries over the years. He is well known for his highly charged, energetic yet humorous training sessions where he never fails to continuously engage with participants throughout.




Elsie has worked hand-in-hand with clients in their effort to implement and align corporate working culture including the areas of employee engagement, talent management, leadership development and customer service. Her experience in driving for high performance culture has equipped her with a strong knowledge to sustain motivations in the modern workforce.

Elsie is an advocate of innovative action learning programs that appeals to young learners. Elsie brings a high level of energy and passion into her delivery and leverages on her cross-functional and industry experiences to make learning relevant and practical for her audience. Elsie lead coaching projects to assist organizations improve productivity and performance through leadership and team development.

Elsie has delivered a range of People Culture Transformation Initiatives, Coaching for High Performance, Change Management, Learning Journeys and Leadership Assessment Centre solutions for clients like Carigali-PTTEPI Petronas, Boral, Petron, Akers Solution, MMC, SunLife Assurance, SME Bank, See Hoy Chan, Singtel, VM Ware, Alstom, BESI Apac, PPG, Intralink, Telekom Malaysia, Suruhanjaya Perkhidmatan Awam, British American Tobacco, UEM, Hong Leong Group, Sunway Group, AEON, International Medical University, Felda, Penang Skills Development Centre (PSDC), and Prince Court Medical Centre.
Education and Credentials:
Bachelor of Business Administration from Ottawa University

Certified PSMB Trainer

Certified DDI's Success Profile Card Sort Analyst

Certified in Thomas International Management Systems (DISC Personality Profiling Tool and Human Job Analysis)

Certified Facilitator in DDI's Facilitation Skills Workshop (leadership and workforce training programs)

Trained in Global Leadership Inventory (personality tool)

Trained in Competency Behavioral Interviewing and Performance Management System

Trained in Harrisons Assessments

Trained in Workplace Gamification for Human Resources and Contact Center

---