Objective /Benefits
---
OVERVIEW
This workshop will focus on the application of gamification in reshaping employee experience with a behavioral change to motivate participation, engagement, loyalty and productivity in the workplace.
OUTCOME OF THE WORKSHOP
> Learn to engage with employees using gamification to make the working environment more enjoyable and exciting
> Boost the rate of learning for the employees in a more engaging way, retain more knowledge over time, and utilize the knowledge in creative ways
> Manage problems with retaining employee at the onboarding process
> Create HR policies that encourage positive behavior
> Produce the right incentive scheme to entice employees loyalty to the organization
> Become more persuasive in all forms of communications
WHY YOU NEED TO ATTEND THIS WORKSHOP
Gamification in the workplace is the use of game mechanics and behavioral design to motivate behavior change and engage employees in improving their performance, productivity, participation, and loyalty.
Gamification uses game design to taps into human behavior to understand the science behind human motivation and how to impose the natural drive of human motivation in the workplace environment.

The workshop will discuss the concepts and frameworks of gamification such as the Octalysis Framework, An Coppen's framework, Andrzrej Marczewski's Player and User Types Hexad to name a few. The participants will then use this concepts and frameworks to develop their own prototype by the end of the workshop.


HOW HR CAN USE GAMIFICATION
With properly designed gamification strategy, gamification can be used to achieve the following business goals:

> Motivate Employees to Learn and Participate in Training
> Improve Talent Acquisition Management
> Cultivate Corporate Culture and Retain Valued Employees
> Incentivize Paperwork and Other Administrative Requirements
Map the Path to Career Success

ENDORSED BY GAMFED
We are so proud to present our gamification workshops that are now endorsed by the International Gamification Confederation (GamFed), which reviewed and determined the best practices of gamification to be applied in specific areas of HR. We have trained and developed our trainers using frameworks that were designed from the world top gamification gurus like Yu-Kai Chou, An Coppens, Andrzej Marczewski, Pete Jenkins and much more to ensure the content delivered is aligned with international best practices and standard.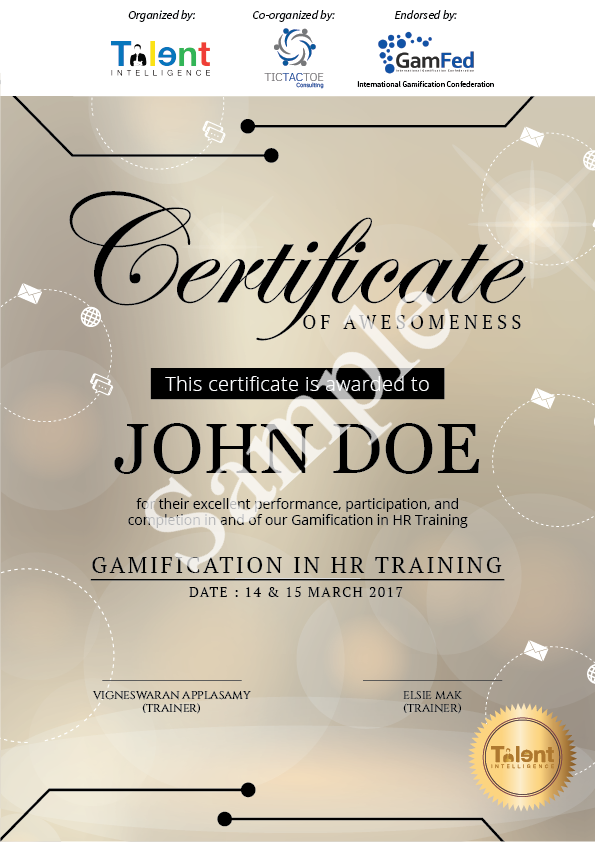 ---

---
Program Outline
---
Day 1
Session 1: Gamification as Human-Focused Design
Workshop Objectives
What Gamification is all about
How Gamification is impacting business and HR
Future of work: Using Gamification at the Workplace
Session 2: Success & Setbacks
Success Stories of Workplace Gamification
Global Trend in Gamification Implementation
Avoid these Workplace Gamification Pitfalls
Group activity: Let's have some fun
Session 3: Introduction to the Gamification Framework Overview
Human Psychology and Motivation
Human Motivational Framework Overview
Gallup's Study and Findings
Session 4: Implementation of Game Elements Non-Game and Gaming Environment
Apple
Facebook
Wikipedia
Waze
Geomons
Day 2
Session 5: Player Type and Human Motivation
Understanding your Players
Identifying your Player Type (Exercise)
The Six Human Needs
The Six Human Needs (Exercise)
Session 6: An Coppens Framework
Attraction: Devise strategies that appeal to your targeted players
Engagement: Exploring techniques to enhance engagement
Nurturing: Sustaining interest and motivation to speed up the progress
End Game: Acquiring evidence of adoptions and achievement of outcomes
Session 7: Developing Prototype
Guided approach to develop prototype in identified HR Processes
Team Presentation and Feedback
Best Practices
Developing Individual Action Plan
---
Profile
---
TRAINER'S PROFILE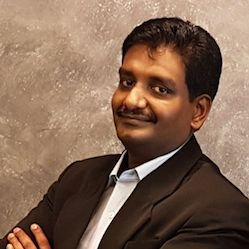 Vigneswaran is currently actively involved in developing Gamification training materials in collaboration with Orlig, who are pioneering a paradigm shift in the working environment at call centres where their influence stretches beyond national boundaries through the incorporation of Contact Centre Gamification on Cloud. This indirect approach will contribute positively on issues such as staff absenteeism, attrition, engagement, and motivation which has plagued, not only this particular industry, lies a fundamental challenge to numerous organizations.
Vigneswaran has been involved in lecturing, research, management, sales and training for more than 14 years in the field of Electrical Engineering, the Manufacturing sector, Higher Education, Sales, and Marketing. He is a Certified HRDF Trainer and also accredited by Harrison Assessment in Employee Development, and attended Gamification and Behavioural Design workshop by Yu-kai Chou.
Leveraging on his industrial and training experience, Vigneswaran develops soft skills training programmes with an 80/20 approach; 80% practical, 20% lecture accompanied by a training manual individually customized for each programme.He has since developed over 30 training programmes in the area of Soft-Skills. His previous participants include those from UMW Holdings Bhd, KPJ Healthcare, Coway (M) Sdn Bhd, Bursa Malaysia Berhad, Honda Malaysia, Maybank Berhad, UEM Group Berhad to name a few.
Elsie is an active advocator of making work and learning more fun for employees via the leading edge Gamification platform. Elsie is currently involved in developing workplace gamification training modules for employee and learner engagement in collaboration with Orlig, a leading contact centre gamification solutions provider.
Elsie is consistently upskilling on the topic of gamification to ensure that she stays relevant. She has attended Gamification and Behavioural Design Workshop by An Coppens, a leading expert in Gamification design and recognized HR technology Visionary. Elsie is certified in Thomas International Management Systems (Personality Profiling and Human Job Analysis), Harrison Assessments, Global Leadership Inventory, Competency-Based Behavioral Interviewing and DDI Success Profile Card Sort Analyst.
Elsie is leveraging on her corporate experience in driving employee engagement to facilitate corporate culture implementation and alignment in Information Communication Technology, Retail, Property Development, Construction, and Manufacturing.
Elsie has delivered a range of Culture Transformation Initiatives, Learning Journeys and Leadership Assessment Centre solutions for clients like See Hoy Chan, Singtel, Gamuda-MMC, PPG, Telekom Malaysia, Suruhanjaya Perkhidmatan Awam, British American Tobacco, Carigali-PTTEPI Petronas, Petron, Akers Solution, UEM, Hong Leong Group, Sunway Group, AEON, International Medical University, Felda, and Prince Court Medical Centre.
---