Objective /Benefits
---
Let You Employees Experience The Business Impact of Their Daily Decisions!

Companies like Nestlé, Roche, and Siemens have long understood the need for every employee to understand how the business makes money in staying relevant and competitive in this fast changing world.

Corporate ProfitAbility is a highly effective tool, designed to give a global overview of how a company works and to make the learning of strategic planning, marketing and financial concepts as easy and enjoyable as possible. It is a fast-paced and highly challenging board-based business simulation that focuses on building business and financial acumen, and goes on to explore the drivers of value creation in your business.

Corporate ProfitAbility is fully customisable to reflect the specific terminology and drivers of value within your own organisation, and is suitable for managers at every level.



Note that a minimum of 12 pax is required to run this training.

What you will learn:

• How profit is made
• How business finances really work
• The importance (and cost) of cash
• How strategic direction affects daily operations
• What they can do to move their numbers in the right direction.

Using a unique simulation, which represents the workings of a company, complete with sales, marketing, and financial operations, participants learn how money flows through their business with every decision they make.

The ProfitAbility approach

Experiential learning — or 'learning by doing' — enables people at every level to absorb essential concepts and transfer them directly to their workplace in the form of changed behaviour. Knowledge and business acumen are not only increased but also retained and – vitally – used, allowing people to make informed business decisions on the job.

This is achieved through:
• Shared experience
• Teamwork
• Competitive challenge
• Company-specific language and discussions
What will the participants do?



Each participant is part of a small team, in competition with five other teams. Each team will buy and sell products, hire employees, make capital investments, take out loans, research the competition and make decisions based on their position in the marketplace.



The Goal



The goal is to outperform your competitors by creating more profit and value than them while maintaining cash flow. In between each competitive round, participants receive teaching input on the following topics including immediate application exercises to reinforce the learning.





Profit vs. Cash:




How both are crucial to business growth and survival.





Ratios:




Which ones to use and how they help you manage the business.





Forecasting:




How to predict and affect cash flow.





Planning:




What tools to use and how to

analyse

planned versus actual results.





My Job:




What I will do back at work to create better financial and business results.





Costing:




Fixed and variable.



Learning Outcomes



• The essential overview of how each business decision has a financial consequence




• Understanding the difference between profit and cash




• Knowing how to interpret income statements and balance sheets – and enjoying doing so




• Understanding budgeting, cash flow forecasting, and profit margin analysis




• Increased understanding of the key measures of business: gross profit, net profit, and shareholder value




• How to control cash moving in and out of the business




• Understanding the need to develop a marketing strategy for a competitive marketplace

---
Program Outline
---
Day 1 - AM
• Introduction to Business Acumen
• The Moving Balance Sheet
• Introduction to the Simulation
• January Simulation – Facilitator-led
• February Simulation – The Importance of Cash Management
• Introduction to Financial Ratios

Day 1 - PM
• Introduction to Strategy Frameworks
• Porter's Generic Strategies
• Blue Ocean Strategies
• Video – Zappos Customer Service
• Introduction to the 4Ps of Marketing
• Application - Red Bull
• March Simulation - Application of Strategy.
• Share Price Exercise 1

Day 2 - AM
• Review – Day 1
• Corporate Fraud
• Budgeting
• April Simulation – Navigating External Shocks
• Pricing Strategies
• Cost Plus Pricing
• Value Based Pricing

Day 2 – PM
• Cost Allocations & Business Analysis
• May Simulation – Business Turnaround
• Project Valuations
• ROI, DCF & NPV
• June Simulation – Sustaining the Business
• Share Price Exercise 2
---
Profile
---
The Speaker: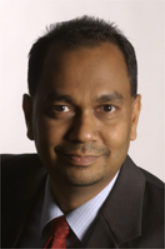 Sekar Shanmugam started his career at Intel as a Systems Engineer and has spent the majority of his 24-year career working in leading corporations like Hewlett-Packard (HP) and Maxis Berhad in senior leadership roles. His experience includes, among others, managing business units with full P&L, sales, and operational responsibilities, guiding his organization through the 1997 Asian financial crisis and leading the integration efforts in Malaysia during the merger of HP and Compaq in 2001.
Sekar is a proponent of teaching employees and entrepreneurs about how business works and brings many years of hands-on people management and real-life business experiences to the programme. He has two books about the early days of the Internet to his name and has published numerous articles on the topic of leadership and management.
Sekar holds a Degree in Electrical Engineering from the University of Malaya and an MBA from the University of Cambridge.
---