Objective /Benefits
---
Objective /Benefits
In this TPM workshop you learn the important issues to know and teach so everyone can prepare for a successful TPM introduction.
This TPM workshop makes it clear what it really takes to make operator driven reliability live and last in your operation. The TPM workshop contains a strategy and plan that will guide you. You will lead a stronger, better prepared TPM implementation with great chance of success. nnnIt is not TPM that is difficult. The difficulty is convincing your people what they will need to do and change when your operation takes-on TPM.
The TPM workshop takes you through the important TPM plan and implementation strategies and the level of equipment knowledge your shopfloor people must know in order to successfully create operator driven reliability. It highlights to your people the extensive operator preparation and TPM training needed for a successful TPM introduction. A Total Productive Maintenance introduction case study is also included so you can see the work that goes into TPM implementation. The TPM case study shows you how a TPM introduction was successfully done in an industrial situation.

Learning Outcomes
• Acquire knowledge on the full picture of what it takes to practice TPM well.
• Learn what the company will need to do to successfully use TPM.
• Developing knowledge on leading your management and supervision to a deeper understanding and willingness to put more effort and capital into establishing TPM properly.
• Understand the importance of management support for any change to be successful.
• Able to convince your management and supervision of the true effort in successful Total Productive Maintenance adoption.

Assessment Criteria
Student Action Plan, Role Play

Methodology
Lecture, Individual & Group Activity, Feedback Sessions, Discussions, Demonstration, Business Games, Role Plays, Videos
---
Program Outline
---
Program Outline
Day 1
Module 1: Getting Started
• TPM gives Lifetime Equipment Health
• Workshop Objectives

Module 2: Program Outline
• Overview of TPM
• What is TPM
• What TPM is Not
• Why TPM
• TPM Principles
• TPM provides basic stability for Lean transformation
• TPM is a paradigm shift
• TPM facilitates a culture change
• TPM eliminates/reduces waste
• Why is TPM important?
• TPM Goals
• Direct Benefits of TPM
• Indirect Benefits of TPM
• Pillars of TPM

Module 3: TPM Foundations: 5S & Visual Management
• Pillar 1 – 5S
• Seiri
• Identifying Red Tags
• Seiton
• Seiso
• Shine – Practice Tips
• Shine – Check Sheet
• Seiketsu
• Shitsuke
• 5S & Equipment Maintenance
• Visual Control & TPM Scorecards

Module 4: Key tools for TPM
• TPM Tools
• Small Group Activities (SGAs)
• Goals of a Suggestion System
• Fuguai Tagging (F-Tag)
• Monitoring Tags
• Key Points for Removing Problem Tags
• One-Point Lesson
• Purposes of One-Point Lesson
• Philosophy of One-Point Lesson
• Guidelines for Developing 1-Point Lessons
• Activity Board
• Components of an Activity Board

Module 5: Equipment Loss Analysis & OEE
• The Shopfloor is Flooded with Losses
• OEE (Overall Equipment Efficiency)
• Equipment Losses & OEE
• Six losses in the work place
• Sample OEE Calculation
• Automated OEE
• Manual Data Collection Plan


DAY 2
Module 6: Autonomous Maintenance
• Policy
• Goals of Autonomous Maintenance
• 3 Key Tools for Autonomous Maintenance
• Example: AM Activity Board
• Four Equipment-related Skills for Operators
• 7 Steps of Autonomous Maintenance
• Key Implementation Points of AM

Module 7: Planned Maintenance
• Introduction to Planned Maintenance
• Tasks for Maintenance Department
• How to achieve the natural life cycle of individual machine elements
• Preventive maintenance
• How to develop a preventive maintenance system
• Scheduled Maintenance
• Identifying a Complete Machine Preventive Maintenance Plan
• 6 Steps of Planned Maintenance
• The Four Key TPM Pillars that are Critical for Equipment Reliability

Module 8: Focused Improvement
• Focused Improvement
• Factors Affecting Product Quality
• Examples of Focused Improvement Events
• Improving OEE Through Kaizen Event
• Kaizen Toolbox for TPM Problem Solving
• Quick Changeover: Basic SMED Principles

Module 9: Other TPM Pillars
• Education & Training
• Steps in Educating and training activities
• Early Equipment Management
• MP Design & Early Equipment Management
• Perspectives of Equipment Weak Points
• Benefits of MP & Early Equipment Management
• Quality Maintenance
• Data requirements
• Data related to product
• Data related to processes
• Prerequisite for Quality Assurance
• Office TPM
• How to start Office TPM?
• Kaizen topics for Office TPM
• Office TPM and its Benefits
• Extension of office TPM to suppliers and distributors
• Safety & Environmental Management

Module 10: TPM Implementation
• TPM Implementation Master Plan
• TPM implementation structure
• TPM Implementation: 3 Requirements for Fundamental Improvement
• 12 Steps of TPM Implementation
• How to Sustain TPM
• Critical Success Factors
• Wrap Up
---
Profile
---
TRAINER PROFILE - VIGNESWARAN APPLASAMY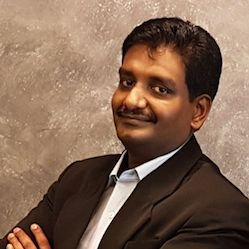 Mr Vigneswaran Applasamy has been involved in lecturing, research, management, sales and training for more than 14 years in the field of Electrical Engineering, Manufacturing sector, Higher Education, Sales and Marketing.
Vigneswaran holds a Masters in Electrical Engineering from Universiti Teknologi Malaysia and is a registered member of Board of Engineers Malaysia (BEM), Institution of Engineering and Technology (IET), UK, Technological Association of Malaysia (TAM) and Green Productivity Association of Malaysia (GPAM).
His professional career begun in Singapore as a Sales Engineer and later ventured into the Higher Education sector in Malaysia. He has served as a Vice Principal of a college and moved on to lecture and undertake research in a leading private University where he was noted for his publications in the International IEEE Conferences of Power & Energy and Business, Engineering & Industrial Applications. His articles since have been cited 9 times by other international authors in their respective publications. This was also the period where he ventured into corporate training as an Associate Trainer for Topesh Consultancy and Training Services PLT beginning 2011.
He has used his industrial and training expertise to develop soft skills programmes with a 20/80 approach; 20% lecture, 80% practical accompanied by a training manual individually customized for each programme. Each sub-section of a programme is incorporated with as many exercises or activity to enhance the practical understanding of participants.
He has since developed over 30 training programmes in the area of Soft-Skills. He's participants include those from Galeri Petronas, Bursa Malaysia, Honda Malaysia, UMW Holdings Bhd, Tan Chong Motors Holdings Berhad, Perodua Sdn Bhd, RHB Bank Berhad, Maybank Berhad, Maxis Customer Service Sdn Bhd, Marrybrown Sdn Bhd, IFCA MSC Berhad, Pos Malaysia Berhad, Watsons Malaysia, UEM Group Berhad, UEM Sunrise Berhad to name a few.
His pragmatic approach have been well received by various segments of people, owing to his wide exposure to various industries over the years. He is well known for his highly charged, energetic yet humorous training sessions where he never fails to continuously engage with participants throughout.

---