Objective /Benefits
---
If you want to go fast, go alone.
If you want to go far, go together
~ African Proverb..
The Collaborative Leadership Development Programme is a highly interactive workshop that is designed to create a high performance workplace. Team performance is critical to contribute for organisation success. The workshop reveals team dynamics in a way that has never before been possible, enabling individual team members to understand how their own behaviours contribute to or obstruct team objectives.

Reports provide a step-by-step plan in which each team member can make adjustments to improve team performance.

Expectation of the Programme:
Create effective interactions to enhance team performance
Discover the strengths and challenges of a team including team decision-making potential
Identify the best roles for team members
Assess the potential for cooperation or conflict
Establish clear guidelines for effective interactions
Reveal blind-spots that may undermine performance
Facilitate team self-discovery to accelerate the team performance process
---
Program Outline
---
The Mechanism behind the Program
The HA ParadoxTechnology™ provides managers with a clear understanding of their own behaviors that will enable them to reduce turnover and become more effective team members and leaders. It even includes a mapping of their stress behaviors and how those impact other team members and employees. By mapping managers' as well as the entire teams behaviors against the key paradoxical principles of leadership, managers can immediately start with practical actions for coaching performance, retaining talent and building effective working relationships.

The Function of HA in Leadership Development Programme
Our Team Paradox Report helps managers build stronger teams by establishing clear team values for effective interactions, identifying the strengths and weaknesses of the team members in an effort to maximize team efficiencies, and pinpointing weak areas within the team that will need additional support.

Start developing performance, work satisfaction, and team effectiveness. and build your competitive edge with Harrison Assessments Employee Development Solutions.

---
Profile
---
Leadership Profile Analysis by Harrison Assessment Talent Solutions
Harrison Assessments (HA) award winning solutions exceed the results of other talent management methods and personality tests by aligning people's qualifications and passions with company-specific jobs. HA unique Paradox Technology™ identifies employees and applicants who are three times more likely to achieve business results.

Save up to 70% administration time with our talent acquisition and succession planning solutions. Engage and retain top talent and build high performing teams with our unique employee development and employee engagement tools.

Today's employers are challenged to increase performance and meet talent expectations, while at the same time maximizing the return on investment in employee development. The Harrison Talent Development Solutions uniquely meet that challenge through a broad range of applications that target development needs for specific jobs, match people to the right roles, facilitate employee engagement, develop job specific competencies, promote core values, accelerate leadership development, and enable managers to coach and engage employees.

What does HA Measure?
1.Behavioural Strength and weaknesses
2.Interpersonal Skills
3.Motivation
4.Decision Making styles
5.Leadership Potential
6.Personality balances
7.Work Environment Preferences
8.Task Preferences
9.Interest Factors
10.Retention & Engagement Drives

Harrison Assessment Paradox Technology:

Shows the dynamic relationships between the two traits of each of the 12 main paradox pairs. Enables the analysis of paradoxical behaviours (optionally highlights traits related to a job).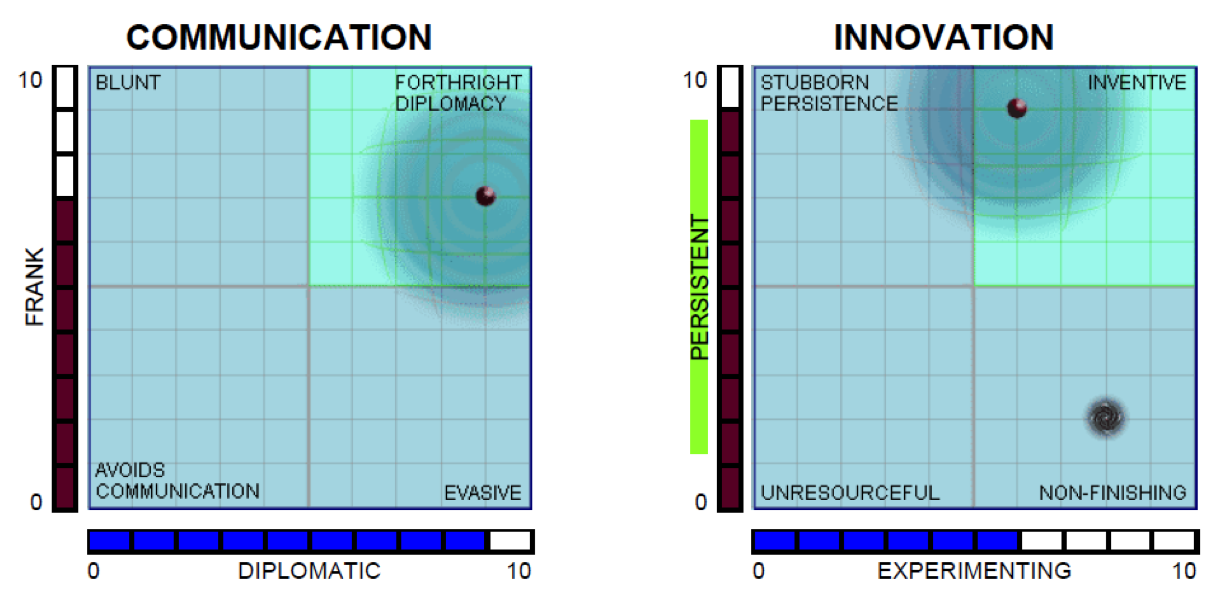 HA is the only assessement that harnesses the power of Paradox.

Paradox is the result of integrating two seemingly contradictory behaviors that both contribute to an individual's success.

Individuals who have balanced paradoxes are more likely to succeed.
---