Objective /Benefits
---
Emotional intelligence describes the ability to understand one's own feelings which is vital to being an effective and high-performing member of any team. It also provides great insight on how emotion influences motivation and behaviour. The concepts of Emotional Intelligence have been around since the early 20th century, but the term was first introduced by Wayne Payne in 1985.
Focusing on managing your emotions under pressure, participants will gain a better understanding of self-management and self-awareness by learning how to manage your emotional brain in your most difficult moments. This in turn will give them better insight and control over their actions and emotions. With a greater understanding of emotions participants will experience a positive impact on their professional and personal lives to make their job and career more effective, satisfying, and successful.
Learning Outcomes
Use Emotional Intelligence to maximise the effectiveness of your communication with others and feel better about yourself
Identify the main EI competencies and know how each area can contribute to your personality and interaction with others
Recognise and understand your moods and emotions and their effect on others
Manage and regulate your emotions to make sure they don't disrupt your behaviour
Control and guide your emotions so you can achieve more, boost yourself and vastly increase your productivity
Establish rapport with others and improve the effectiveness of your communication
Understand others' feeling when interacting with them and become a trusted person in their network
Understand others needs systematically and respond accordingly to get maximum results in your interactions with them
Assessment Criteria
Student Action Plan, Role Play, Online Quiz
Methodology
Lecture, Individual & Group Activity, Feedback Sessions, Discussions, Demonstration, Business Games, Role Plays, Videos

---
Program Outline
---
Day 1
Section One: INTRODUCTION TO EI
Testing your Emotional Intelligence Questionnaire
A Typical Story
PRACTICE: My Best Managers
What is Emotional Intelligence?
The Main Thesis
EI Framework
EI Competencies
Section Two: SELF-AWARENESS
At the Mercy of Emotions
What Are Emotions?
A Curious Story
What is Emotional Hijack?
Amygdala
Conventional View versus Modern View
4 Stages of an Emotional Hijack
PRACTICE: Emotional Hijack
Signal Processing
EXERCISE: Emotion Log
Section Three: SELF-MANAGEMENT
Choice
Optimism
Roots of Anger
PRACTICE: Past Angry Moments Part 1
Anger Management
Reframing
Distractions
PRACTICE: Past Angry Moments Part 2
EXERCISE: Simulate Anger and Respond
Worrying
Worry Management
EXERCISE: Workplace Music
Day 2
Section Four: SELF-MOTIVATION
What is Motivation?
Power of Self Talk
PRACTICE: Positive Self-Talk
State of Flow
Apathy
Mind Mapping
EXERCISE: Mind Map the Future
Section Five: EMPATHY
The Origins of Empathy
Physiology
Matching Emotions
Empathy Technique
PRACTICE: EMPATHY
Section Six: SOCIAL AWARENESS
Why Social Awareness?
A Case Study
EXERCISE: The "A" Team
Group Interactions
EXERCISE: Visualise Your Role Model
Negative Listener Types
EXERCISE: Negative Listening Styles
Effective Listening
EXERCISE: Effective Conversations
Section Seven: RELATIONSHIP MANAGEMENT
The Six Human Needs
Select Two
PRACTICE: The Six Human Needs
PRACTICE: SIX NEEDS – SCENARIO 1
PRACTICE: SIX NEEDS – SCENARIO 2
HOME EXERCISE: My Colleagues' Need
EXERCISE: Six Needs Scenario Making
It's a Wrap
---
Profile
---
TRAINER PROFILE - VIGNESWARAN APPLASAMY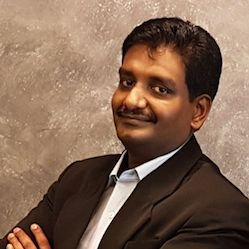 Mr Vigneswaran Applasamy has been involved in lecturing, research, management, sales and training for more than 14 years in the field of Electrical Engineering, Manufacturing sector, Higher Education, Sales and Marketing.
Vigneswaran holds a Masters in Electrical Engineering from Universiti Teknologi Malaysia and is a registered member of Board of Engineers Malaysia (BEM), Institution of Engineering and Technology (IET), UK, Technological Association of Malaysia (TAM) and Green Productivity Association of Malaysia (GPAM).
His professional career begun in Singapore as a Sales Engineer and later ventured into the Higher Education sector in Malaysia. He has served as a Vice Principal of a college and moved on to lecture and undertake research in a leading private University where he was noted for his publications in the International IEEE Conferences of Power & Energy and Business, Engineering & Industrial Applications. His articles since have been cited 9 times by other international authors in their respective publications. This was also the period where he ventured into corporate training as an Associate Trainer for Topesh Consultancy and Training Services PLT beginning 2011.
He has used his industrial and training expertise to develop soft skills programmes with a 20/80 approach; 20% lecture, 80% practical accompanied by a training manual individually customized for each programme. Each sub-section of a programme is incorporated with as many exercises or activity to enhance the practical understanding of participants.
He has since developed over 30 training programmes in the area of Soft-Skills. He's participants include those from Galeri Petronas, Bursa Malaysia, Honda Malaysia, UMW Holdings Bhd, Tan Chong Motors Holdings Berhad, Perodua Sdn Bhd, RHB Bank Berhad, Maybank Berhad, Maxis Customer Service Sdn Bhd, Marrybrown Sdn Bhd, IFCA MSC Berhad, Pos Malaysia Berhad, Watsons Malaysia, UEM Group Berhad, UEM Sunrise Berhad to name a few.
His pragmatic approach have been well received by various segments of people, owing to his wide exposure to various industries over the years. He is well known for his highly charged, energetic yet humorous training sessions where he never fails to continuously engage with participants throughout.
---