Objective /Benefits
---



1.0 INTRODUCTION

A well-groomed person is attentive to details, organized and self-disciplined – at least that is the assumption! A polished appearance and sophisticated demeanor create a great impression, while a positive image builds confidence and the attractive public persona necessary for work and social success.

In our highly competitive business environment, customers have a choice of companies to do business with. Increasingly they will park their business where they are treated with courtesy, consideration and professionalism. One of the hallmarks of a company's image comes from the quality of the behaviour and relationships between members within an organization. When you represent your organization, customers perceive the organization through the way you interact, look, and talk and behave.

Good image and Grooming is about conducting oneself in a business-like way in every aspect related to work, in terms of both approach and mindset. Thus, projecting a personal image of professionalism and effectiveness leads to the projection of professionalism on the part of the corporation.
2.0 COURSE OBJECTIVES

• Project a confident personality and professional appearance
• Develop self-professionalism at work and in various business situations
• Display good business manners in performing job functions
• Enhance professional appearance and create a lasting impression.
• Secure a dream job with positive approach with image.


3.0 LEARNING OUTCOMES

Upon completing this 2-day session, the learner should be able to:

• Increase Self-confidence, motivation and positive morale.
• Improve relationship through professionalism.
• Adopt hands-on learning and skills mastering.
• Learn about creating a professional presence through dressing.
• Possess effective wardrobe management and solutions
• Understand their body shape and Do's and Don'ts for professional outfit
• Understand basic hairstyling at work
• Master the skills and techniques on Make-up application


4.0 ASSESSMENT CRITERIA

• Assessments on conducting an interactive delivery session
• Demonstrations and group mobility dynamics through the preparation of training resources
• Peer-level feedback and Assessor's feedback for 'areas of improvement'

5.0 METHODOLOGY

This highly interactive program combines stimulating lectures, role play, group discussion, and problem solving exercises, simulations, demonstrations and practical sessions, which will equip participants with the much needed style & grooming skills required in the societal and professional arena. Participants will be taught proper grooming etiquette and appropriate dressing, accessories and color coordination for various occasions as well as basic skin & hair care skills.


6.0 WHO SHOULD ATTEND
• Business Executives
• Sales & Marketing Executives
• Career Seekers & Graduates
• Front liners

7.0 Learning Methodologies:

Group activities, Hands-on-practical demonstrations, personal tips and feedback, group and individual experiential learning de-brief.


---
Program Outline
---



DURATION: 2 Days

COURSE OUTLINE

DAY 1
Lasting First Impression with "Grooming"
• Cultivating a professional presence with professional grooming.
• Understanding your skin type and basic skin care.
• Hairstyling and techniques to look good
• Personal hygiene, Presence & Style
• Beware of Image Destroyers
• Grooming Do's & Don'ts
• Guidelines to Skin & Hair Care

Personal Make-up and Basic Skin Care
• Color analysis to discover best range and shades.
• Make-up techniques and skills to enhance your appearance
and face shading.
• Individual hands-on make-up application.
• Color coordination and analysis to complement your skin tone.

DAY 2

Art of Dressing for Men and Women
• Dressing guide for Men and Women.
• Managing and building a workable business wardrobe.
• Learning guidelines on suits; shirts; ties; belts; shoes etc.
• Learning different tie knots.
• Art of accessorizing and style.

Business Etiquette
• Principles of Etiquette
• Business Etiquette
• Meeting and Greeting People
• Introductions and Business Cards
• Appointments and Meetings

Deportment & Body Language
• Poise, Deportment & Gestures for Men
• Standing, Sitting and Walking Professionally
• Posture & Breathing Exercises
• Basics of Effective Communication
• Body Language (handshakes, gestures and facial expressions)

---
Profile
---
NORMA MOHAMED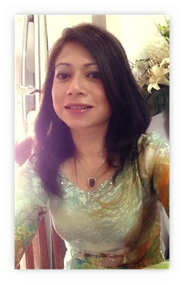 Norma Mohamed is a creative and an innovative trainer who is always passionate in everything she does. She strongly believes that with a passion to succeed, nothing is impossible. She is a committed trainer who is ready to help and coach individuals to build effective communication and inter-personal skills. She genuinely listens, understands and able to interact with participants comfortably. She is also an energetic and vibrant trainer who believes the best way to engage participants in training is via learning and experiences.
An engaging presenter, she believes in creating a conducive training environment. In a positive, creative environment, she truly believes that open minded individuals who allow themselves to make mistakes and learn from experience will gain the most.
With 25 years' experience as a stewardess for Malaysia Airlines System (MAS), she has a broad experience in customer services. She is approachable and enjoys working with people from all walks of life. Moreover, her experiences as a Chief Stewardess for more than 10 years, handling first and business class, allows her to be well-versed in protocols and decorum. She quotes, "it is fascinating how interactions of people from different background and real-life experiences can be the best textbook you could have".
She also has sound knowledge in corporate training and excellent management skill. With her extensive experiences, she is very committed to coach others in corporate communication, interpersonal skills, protocol and other communication-related areas.
She attended numerous development trainings and courses over the years such as: High performance leadership course; Value integration programme; I make the difference workshop; Journey towards personal and team excellence (experiential approach); Grooming enhancing workshop; Professional grooming personal skill course.
As a chief stewardess she is trained to guide and teach her crews about personal grooming etiquette and how to apply a right make-up to go work, and how to carry themselves well to carry the company image.
Norma is also a beauty consultant at Mary Kay. As a beauty consultant besides helping the customer to choose a right make up and skin care product, she also gives a talk about beauty and grooming to them.
She gained her experience as trainer through mentorship from Dr Timothy Law. She has conducted several sessions as a co-facilitator at: Matrade, Limkokwing University and UTAR Sg Long.
Norma's sessions are always highly interactive which involved games and skills which she believes are key to a powerful and permanent transformation and learning. Music, colours and activities is a hallmark to these sessions.
HRDF claimable workshop!
---