---
An excellent education and training is needed for employee's learning to reinforce a more knowledgeable and productive workforce. It is important to give your employees control in order to create a learning culture in your organization so they can learn at their own pace.
This allows learners to take ownership and accountability in planning and completing the training. Learning Management System is a technology platform that can deliver learning content for employees to learn anytime and anywhere that improve processes and increase productivity.
We have differents solution and deliverable that cater to your training needs.
Create Your Own Courses with TalentLMS
TalentLMS is a super-easy cloud and mobile LMS that makes effective use of your time and maximises your training output. You can become proficient with TalentLMS in minutes, and it allows you to create a complete course in less than an hour.
To achieve this, TalentLMS have spent a lot of time iterating on its design, focusing on what's essential and eliminating anything fancy and unnecessary functionalities.
TalentLMS has also made it really easy to integrate existing training materials in any format, including videos, presentations, Word and PDF documents and even SCORM / TinCan files.
How does TalentLMS take the organisation to success?
By enabling you to deliver information and training materials to your employees to optimise their skill sets. Here are some of the core benefits TalentLMS brings to the table:
•You can build e-Learning courses in minutes. You can use old videos and presentations or employ a variety of online materials using Social Integrations.
•It can be configured to meet your business needs. You can add a custom logo, create themes or map an external domain to personalise the tool.
•No need for installation, upgrade or backup anything. TalentLMS is a Cloud Powered Learning Management System.
•It offers simple and comprehensible analytics about everything that happens inside your learning environment.
•It's designed and optimised to work with iPad, iPhone and Android mobile devices. TalentLMS also comes in a fully native mobile app for iOS and Android.
•It has full support for SCORM 1.2 & TinCan (xAPI), notifications, course selling, video-conferencing, gamification, extensible user profiles etc.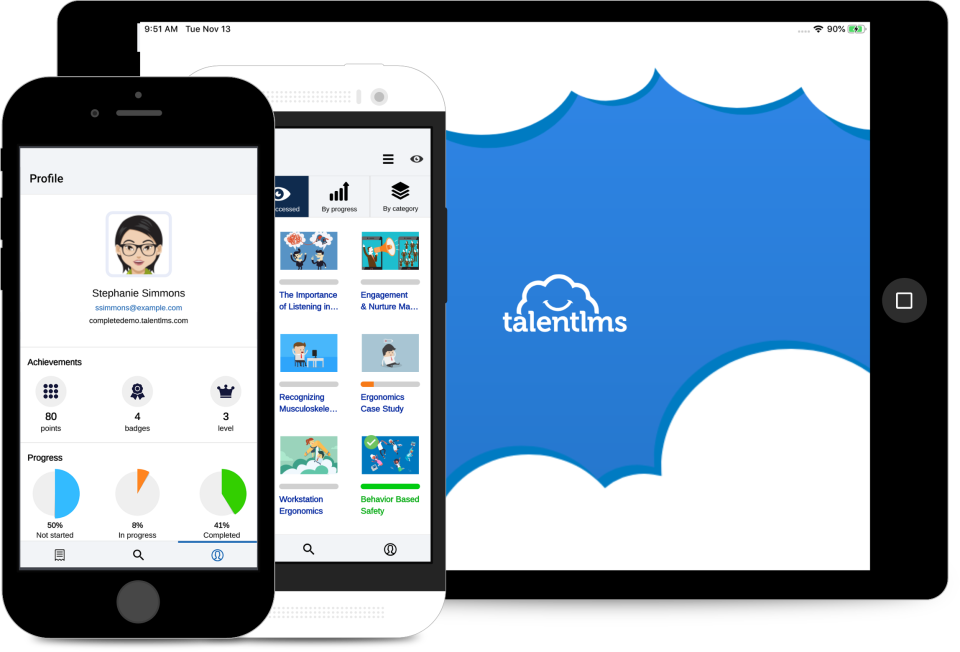 TalentLMS supprt web brower, iOS & Android.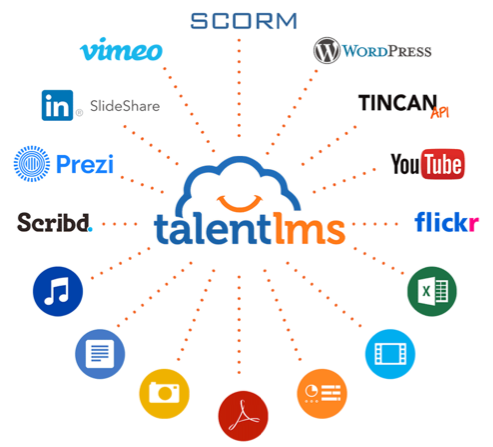 Many file formats are supported by TalentLMS.
Please click below link to contact us for demo!
---
---
Learning Management System Q&A:
What is the Learning Management System (LMS) ?
A learning management system (LMS) is a software application to host digital learning content for the administration, documentation, tracking, reporting, automation and delivery of training courses. Learning management systems were designed to identify & bridge learning gaps, apply data analytic and reporting. LMSs are offering multiple delivery options such as web browser, Android & iOS mobile app to deliver seamless learning experience to learners.

Why is the Learning Management System important in Malaysia ?
The Learning Management System is important especially during COVID-19 pandemic due to social distancing and working from home. The Learning Management System (LMS) became the backbone of digital learning in many organizations to continuously develop and train employees. It also plays an important role for compliance related training to carry out during the pandemic.

What is the Learning Management System price in Malaysia?
The Learning Management System price is varied subject to the number of users also the duration of subscription. It could be as low as RM 6,000 a year for 40 users or up to RM 200,000 a year for 16,000 users. The per user cost is lower when more users subscribe to the Learning Management System.


What are the Learning Management System Packages you offer ?
We provide turnkey solutions for Learning Management System Implementation. We cover services like content development, admin & instructor training, maintenance and support. The package is subject to the number of users and the scope of work for the implementation.

Why should I choose Talent-Intelligence as my Learning Management System provider?
Talent Intelligence has 12 years experience in the training industry. We spent 7 years introducing digital learning and incorporated Gamification. We have vast experience to carry out the end to end implementation with skilled and experienced talent within the organisation.

Is your Learning Management System solution HRDF claimable ?
Yes, Talent Intelligence is an authorised training provider under HRDF (PSMB). We have helped clients to claim learning management systems or digital learning content through client HRDF levy.

I am interested, Who should I contact?
Kindly click the "Contact Us" button to fill up the inquiry form. Our sales rep will get back to you within 24 hours. Please provide the info stated in the inquiry form, hence, our sales rep could suggest the service offering accordingly.

---